Kensei: Sacred Fist is deceptive in many ways. What looks like a simple fighting game has a fighting system that's a little deeper than meets the eye. You may also think that for its time, it had a massive fighting roster at twenty-two in all...But not quite. And by looking at the back of the game case, reading the description, and looking at the screenshots, you might think that this game would be absolutely awesome...Unfortunately, that's not the case. Read on and I shall inform you as to why that is.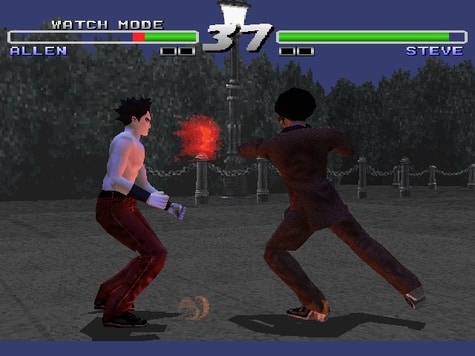 First off, I'll go into the story...Aside from the very brief bios for the nine main characters in the game's instruction manual, there is no story of any kind to be found in this game. Granted, very few people who play fighting games play them for the story, but something as basic as endings for each character is enough to give a player some incentive to continue playing through the game with everyone on the roster. Kensei doesn't have any endings. If you beat "Normal mode" (which is best known as Arcade mode in most fighting games) the only congratulations you'll get is the credits rolling. Granted, there are 13 fighters to unlock as well as a new game mode that involves the fighters running around a track for 'best lap' records, but honestly, many of the fighters play very similar to each other, so while unlocking folks, it feels repetitive...especially when you unlock someone with a moveset that's basically the same as the person you just beat the game as, but with only a few moves changed up.
That'll bring me to the gameplay. The gameplay in Kensei is pretty basic, you've got a button to punch, kick, block, and grab/catch. The blocking in Kensei is odd, but something I kind of liked. If you block an attack, you don't just stand there and take it like most fighting games. If you block successfully, you might be forced to wobble backwards or to the side, which may leave you open for a second attack...Or you might duck and weave out of the way during a block attempt, avoiding the attack altogether. While it might feel cheap at times when they do connect and you're rocked backwards, the computer is effected by it just as much as you are, also leaving them open for your attacks, so I've got no problem with it...Besides, they tried something different. I admire that. Also different, unlike most fighting games, in Kensei you can't jump or duck. When you press up or down, you begin to circle your opponent...Depending on the difficulty level, you can sometimes just calmly circle behind your opponent and give them a trashing. Which was a big problem in my eyes...The difficulty is awful. I beat Normal mode on my first attempt, on Normal difficulty, and got a 'Perfect' fight three times out of ten. Again, it was my first time playing the game...And one of those perfects was off of the final boss. When that happens, your computer AI is absolutely terrible. Another sign that your AI is terrible is when I can turn the difficulty to 'easy,' turn my back to the screen, and still win about eighty-five percent of the time. If I'm still winning most of the time when I'm not even looking, something is definitely wrong.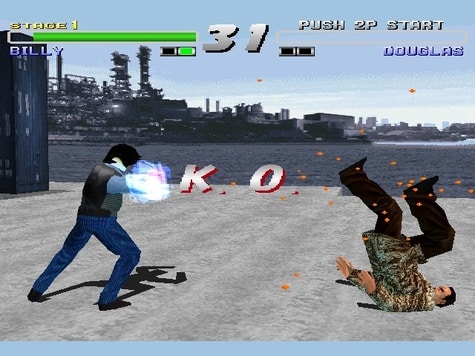 My biggest problem with this game is the lack of replayability. Yes, there are thirteen characters to unlock. Yes, there's a hidden mode to unlock. However, like I mentioned earlier, most of the characters are basically clones of the person you unlocked them with, with slight variances in movesets. And the hidden mode, Running Bugi, really is nothing that you'll want to make a point to unlock unless you're a completionist that needs to finish every game they play to one-hundred percent. As I mentioned earlier, there are no endings for any of the characters. Granted, the ending credits are pretty fun to watch, but once you've seen it once, that's pretty much all you need. With no endings to unlock, lame hidden characters that feel more like clones than new fighters, and a hidden mode that's not even worth mentioning, the replayability is very, very low here. The only way Kensei: Sacred Fist might be in your system for more than an hour is if you have a few friends over and all decide to virtually beat the snot out of each other using this game.
As far as the cosmetics go, Kensei looks pretty bland. The backgrounds are usually devoid of anything interesting. The character models aren't terrible, but they're not all that pretty either. The models are also rip-offs of certain individuals...The most notable one being Douglas Anderson, who looks and dresses exactly like Steven Seagal. But anyway, while this isn't the worst-looking game on the Playstation by any means, when this game came out there were many games (some of which were made by Konami, who also made this game) that were much, much easier on the eyes and much more detailed as well. The audio is generic, techno-sounding, typical fighting game music. Absolutely none of it stuck with me as I write this review. I suppose that it's good in the sense that I wasn't annoyed by it...But it's also bland as it does nothing to add to the experience as you play. It just feels as if it's there because the developers believed that music of some kind needed to be included and they quickly whipped a few tracks up and slapped 'em in. The graphics and audio are both bland...Neither one is awful, but they're also not anything you'll drop your jaw over.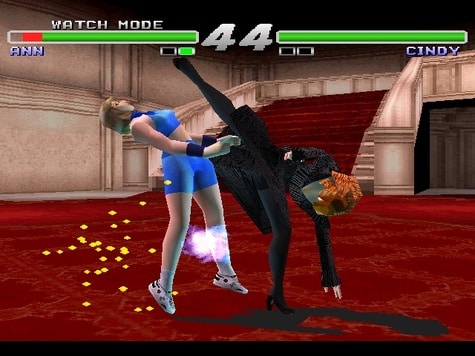 Not being awful, but also not being good seems to be the norm with Kensei. The fighting mechanics are passable and something different for the jaded fighting fan...But unfortunately, they're bogged down by a very poor AI. If you're fighting against a friend, you'll get a more pleasant experience, but I'm reviewing the contents of the game here, and your friend's fighting style isn't something programmed onto the Playstation disc. That being said, the broken AI drops this game down from being passable to being a failure. The poor AI, lame rewards for playing through the game, and bland graphics and audio ultimately drag down a fighting game that definitely had potential to be really good. In Kensei, the fist is definitely not sacred...and for fooling me into thinking that it was, I'd like to show the developers a sacred finger.