If you want lots of gore in your horror experience...More so than usual, anyway...Then Dead Space is the game for you. Instead of the typical "aim for the head" style of gameplay, Dead Space goes a slightly different route...dismemberment. In order to survive in Dead Space, you'll need to aim for the limbs of your enemies...And while this is a somewhat fun mechanic at first...By the time I finished Dead Space, I almost felt as if the dismemberment thing was a needless gimmick rather than a neat and important aspect of the game...But needless gore and dismemberment aside, is Dead Space an enjoyable experience? For the most part, yeah.
Dead Space starts out aboard a giant space ship. You're part of a team sent to the ship in order to repair it and get it in working function once again. However, once you arrive, you'll quickly see that repairing the ship is the least of your problems...Especially when one of your team members is murdered in front of you by some sort of hideous creature, and another creature comes after you and tries to help you join your fallen comrade in the underworld. From there, your focus turns to escaping the ship while you dismember any and all enemies that come your way.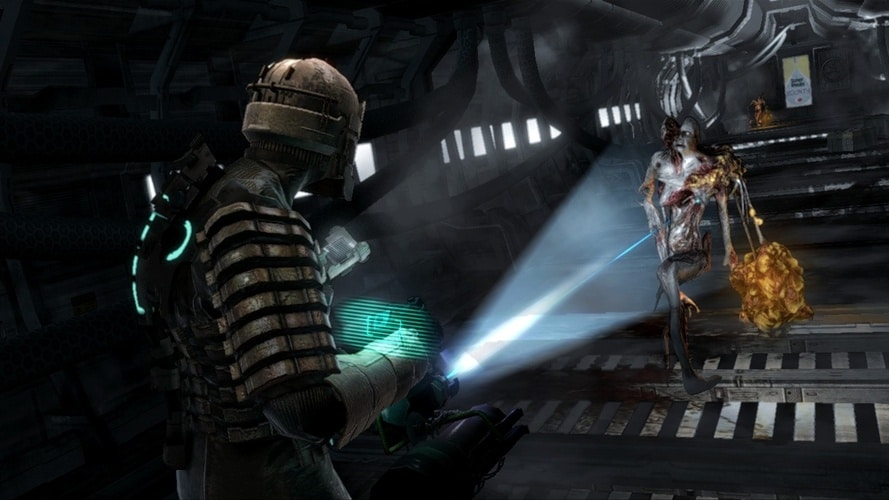 Like I mentioned in the opening paragraph, dismemberment is the name of the game here...But honestly, while it's fun to shoot limbs off at first (especially in zero gravity where you can watch the limbs slowly float away) the thrill gets old after a while. It also takes most of the thrill out of the game...Most of the time, I would literally find a corner, stand in it, and just let the creatures come near me so I could shoot their limbs off with ease or use the handy, dandy saw weapon, that even at its weakest setting can take down most enemies with ease late in the game. When it's so easy to kill most enemies, and you watch yourself taking limbs off of them, it feels more like you're a sadistic kid ripping the arms off of insects rather than a guy stuck on a ship full of killing machines. There's rarely any tension in this game due to how weak the enemies are...Which hurts the whole 'horror' game image it tries to capture.
Speaking if its horror theme, it's done poorly. The scares here are so cliche that I actually rolled my eyes at a few of them...And nine times out of ten, you'll see the 'surprise attacks' (which are supposed to scare you) from a mile away. Plus, as I mentioned above, you've got the means to dismember your enemies with ease...Why in the world would you be frightened when you're a killing machine? If the scares were actually surprising, then maybe they'd be able to get a few surprise scares out of the player, making them jump...And while they try to be surprising, they never actually are. If you want to play this game to get scared, then you're going to be very disappointed.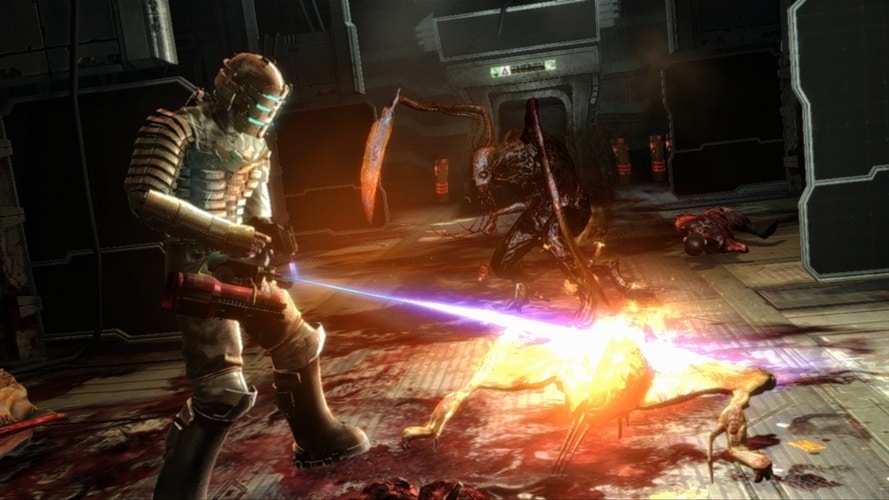 Anyway, back to the gameplay mechanics, there are three different areas that you'll explore in. The first is normal gravity, which is like everyday stuff. The second is zero gravity, which plays exactly like normal gravity except you can jump onto walls and the ceiling and the like. The third are the vacuum areas; these areas are a bit different. First off, there's no oxygen in these areas, so a timer is displayed on your back. If the timer runs out, you run out of oxygen, and you die. Next, and I actually like this because it's logical, if you like to use the Flamethrower, you'll be disappointed since you can't use it in the vacuum areas. Like I said, it's logical since fire needs oxygen to be fire and in a vacuum, there is no oxygen. But otherwise, aside from the timer and the inability to use a flamethrower, the vacuum areas are just like the normal gravity areas. Occasionally, a vacuum level will be mixed with a zero gravity level...But more often than not, you'll have normal gravity in the vacuum levels.
There are minor customization abilities in the game...But, aside from upgrading your suit, they are all completely unnecessary. Like I stated earlier about the saw weapon, the Ripper, it's completely unnecessary to upgrade weapons. Even at the end of the game, your basic weapons are more than enough to get by, without any upgrades. Heck, the game developers probably knew this, too. Afterall, they created an achievement/trophy for going through the entire game with just the gun you start with...Which, honestly, is powerful without upgrades. I upgraded it a little bit on a second playthrough and I was completely destroying everything with ease. I honestly think that they could have easily done away with the weapon upgrades and not have had it effect anything in the game at all. Upgrading your suit is really the only necessary upgrade in the game, as it allows you to hold more items with each upgrade, and towards the end of the game, you'll want to carry as much ammo as possible at all times or you'll probably run out often...Which isn't necessarily a bad thing as the risk of running out of ammo may actually make you feel like you have some sort of vulnerability, instead of being an unstoppable butcher.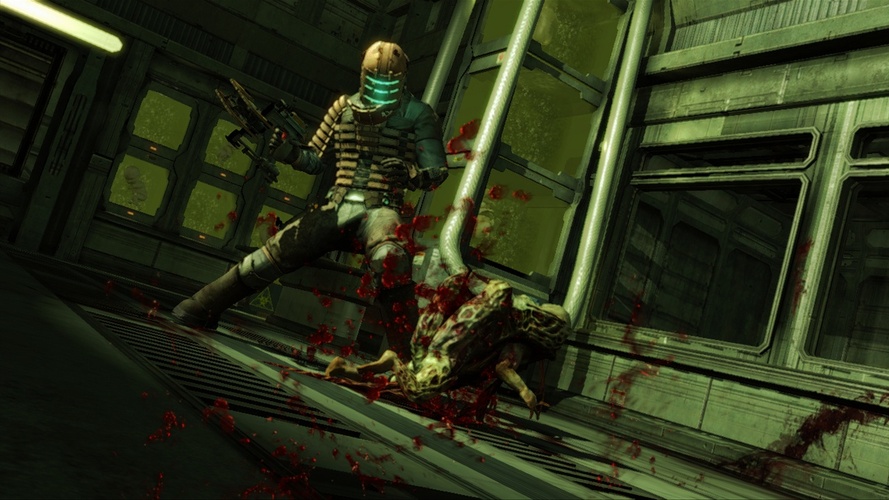 Graphically, Dead Space is gorgeous. Everything looks really good and nicely detailed. Even all of the gore is well done...Little things, like stomping corpses and watching blood actually splatter onto the walls and floors rather than just flow out and not stick to anything, are nice little touches that really help the player get sucked into the game's reality a little easier. The audio is alright...But it sometimes seems confused. Generally, when an enemy is around, the 'fight' music begins, which just sounds like typical horror game fight music, and when the enemy is dead, the music dies off. But every now and then, I'd be walking and the music would hit. I'd circle around a few times and see nothing....Check the nearby rooms and see nothing....And then the music would fade away. I'm not sure if these were audio glitches or the developers trying to make the player paranoid...But, if it was the later, it doesn't work. Like I said, killing enemies is quite easy in the game and hearing that music doesn't stress you out...It just lets you know that you're about to do some killing.
All in all, I enjoyed my time with Dead Space...However, as a horror game, I was disappointed. I never felt a tense moment in the game, I never got startled, and I never felt an ounce of fear stir within me as I played. The 'scares' are predictable and you'll never be in a predicament where you feel helpless enough to be frightened by enemies...Even when encountering the enemy that regenerates its limbs, you'll feel more annoyed that he won't die than afraid that you will. But, if you look at Dead Space as a regular third-person action game and toss the horror elements aside, you'll find a pretty fun game here. It's not perfect, but it's enjoyable enough to be worth a playthrough for folks who like action games with lots of shooting involved. It's also be a decent game to fill some of the 'dead space' on your game shelf, eh? No? Alright, I'm done.